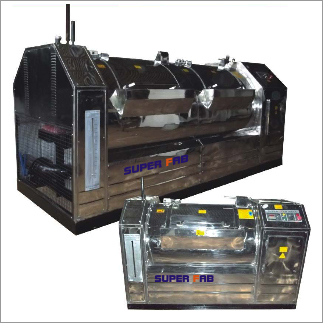 Side Loading Washing Machines
Product Description
Our company manufactures and supplies a range of Side Loading Washing Machines, which is used for enzymes washing and dyeing of several textile based products. Optimal quality components and latest techniques are utilized in the manufacturing of washing machines in several sizes and technical specifications.

Key Features of Side Loading Washing Machines:

This is a low maintenance washing machine with high operational fluency and low power consumption
The key features include Auto Timed, Auto Reverse, Auto Level Control and Auto Digital Temperature Control
This machine has Fully Stainless Steel Structure with Stainless steel Trunnion

Specialized For:

Garment Washing
Enzymes/ Denim Wash
Technical Washing
Bath Mat Dyeing
Pigment Dyeing of Knitted Garments
Milling Machine for Cotton/Woolen Sweaters
All Laundry jobs

Basket & Outer Drum

Made out of 304/316 SS sheets and plates. Argon welded, single joint drum, and basket with no visible joint. Distance of 1.5 inches between basket and drum, So minimum liquor ratio (Possible).

Technical Specifications:
Model

Capacity

Basket Size dia x dipth

Motor

Heating

Water consumption

Drain

Main Door Opening

Over all Dimensions (W x D x H)

Net Wt./ Shipping Size (W x D x H)

Volume

Electric

Steam connection

Diesel Fired

Thermic Fluid

Water consumption Dip Approx.

Consumption

Temp. Raise/ min

Connection Consumption

SFHW - 15

15kg

600Ø x 750

0.75 kw

6-12 kw

15mm (0.5" BSP)

1 – 1.5 ltrs

NA

1" BSP

3" (75 mm)

400 x 300

1840 x 810 x 1150

510 kg/ 720 kg
2000 x 960 x 1300
2.3 M3

212 ltrs

8-10 kg/hr

85

1

SFHW - 30

30kg

750Ø x 950

1.12 kw

12-18 kw

15mm (0.5" BSP)

1.5 – 2 ltrs

NA

1.5" BSP

3" (75 mm)

520 x 400

2050 x 965 x 1310

1000 kg/ 1200 kg
2680 x 1400 x 1425
5.35M3

419 ltrs

15 – 200 kg/hr

2º C/ min

210

1

SFHW - 65

65kg

950Ø x 1270

2.25 kw

24 kw

15mm (0.5" BSP)

3 - 4 ltrs

1" x 1"

2" BSP

4" (100 mm)

665 x 450

2460 x 1200 x 1325

1300 kg/ 1550 kg
3015 x 1630 x 1820
8.95M3

900 ltrs

30 – 40 kg/hr

2º C/ min

22000 kcal/ hr.

450

1

SFHW - 80

80kg

1050Ø x 1250

3.75 kw

36 kw

15mm (0.5" BSP)

4 – 5.2 ltrs

1" x 1"

2" BSP

4" (100 mm)

665 x 470

2600 x 1300 x 1400

800 kg/ 1000 kg
2250 x 1265 x 1535
3.8M3

1081 ltrs

50 – 60 kg/hr

2º C/ min

27000 kcal/ hr.

540

1

SFHW - 100

100kg

1150Ø x 1380

5.62 kw

36 kw

15mm (0.5" BSP)

5 – 6.5 - ltrs

1" x 1"

2" BSP

4" (100 mm)

665 x 470

2775 x 1400 x 1580

1100 kg/ 1400 kg
2850 x 1650 x 1630
7.65 M3

1432 ltrs

60 – 80 kg/hr

2º C/ min

43000 kcal/ hr.

700

1

SFHW - 150

150kg

1220Ø x 1800

7.50 kw

NA

20mm x 2 Nos. (0.75 "BSP)

7 – 8- 2 ltrs

1.5" x 1.5"

2" BSP X 2 Nos.

6" (150 mm)

665 x 70

3925 x 1310 x 1400

1750 kg/ 2150 kg. 4155 x 1650 x 1630 11.17 M2

2103 ltrs

100 – 120 kg/hr

2º C/ min

65000 kcal/ hr.

1060

2

SFHW - 200

200kg

1220Ø x 2440

11.25 kw

NA

20mm x 2 Nos. (1" BSP)

8 - 10 - 2ltrs

1.5" x 1.5"

2" BSP X 2 Nos.

6" (150 mm)

665 x 470

3925 x 1470 x 1610

2350 kg/ 3000 kg. 4155 x 1700 x 1850 13.1 M3

2820 ltrs

160 - 180 kg/hr

2º C/ min

95000 kcal/ hr.

1400

2