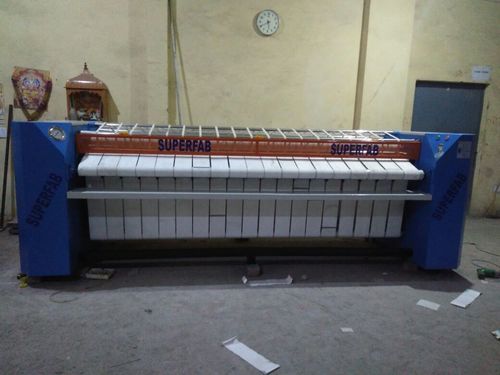 Flat Work Drier Ironer
Product Description
Flat Work Drier Ironer

Super Fab
Flat Work Drier Ironers
have wide range to serve the textile, export, hotel and hospital needs. its fixable chest design cause uniform high pressure between the roller and the chest. This technically designed bed offers up to 170 degree Celsius of surface which maintains pressure between the roll and bed.
Chest Type Ironer
Direct steam injection via multiple steam chambers are applied to heat the chests. This hi-tech ironer is known for operational efficiency, proficiency and productivity.
Salient Features:
VFD for variable rolls speed
Energy efficient and higher output
Limited space requirements
Availability in all size, 304(12"), 457(18"), 610(24"), 762(30"), 8l2(32") roll diameter working width from 2 mtr. to 4.l mtr., single roll version.
Electric, Steam heating or thermal fluid heated models available
Optional Features:
Imported Stainless steel Spring padding with polyester featuring heat resistance
Imported comb hooks
Polyester conveyor belts
Rubberized conveyor feed roller with air blow feeding for perfect linen edge hold.

Technical Specifications:
Models
Roller Dimensions (With out padding)
Normal Roller speed at 50Hz
AC inverter (VFD) variable speed
Connection
Heating Therm. Controlled
Total Electricity consumption
Suction Dimensions exhaust side
Overall Dimensions (W x D X H) n mm
Net Wt/Shipping Wt.Shipping size (W x D x H) in mm
Drive Motor
Suction Motor
Electric
Steam
In case of steam/ Thermal Fluid heating
In case of Electric heating
SFFW - 12
12x84
4.66 RPM
2-5 RPM
0.37 KW
0.37 KW
9KW
30kg Per Hr
0.75 KW
9.75KW
3 BSP/75mm
3200 x 1350 x 1350
1450/ 1750kg
3400 x 1550 x 1450
SFFW - 18
18x96
6.50 RPM
2-6 RPM
0.75 KW
0.75 KW
24KW
72kg Per Hr
1.50 KW
25.50KW
3 BSP/75mm
3500 x 1500x1350
200/ 2650kg
3700 x 1550 x 1450
SFFW - 30
30x120
10.1 RPM
3-10 RPM
3.75 KW
1.50 KW
72KW
225kg Per Hr
7.0 KW
77.25 KW
4 BSP/75mm
4500 x 2040 x 1575
4500/ 4700kg
4700 x 2240 x 1675