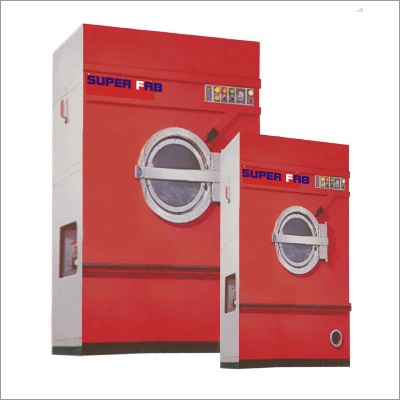 Dry Cleaning Machines
Product Description
Dry Cleaning Machines

We bring forth a range of
Dry Cleaning Machines
to our companies in garment and textile industries. These machines are ideal to remove grease, oil, dirt and tracing marks from garments, quilts and textiles. A professional team designs and develops these dry cleaning machines in several designs, capacities and other technical specifications.
Features of Industrial Dry Cleaning Machines:
These machines have user-friendly controls
These are known for precise operations
These are maintenance free machines
These can be used for longer time with minimal maintenance
M.T.O Machine with powerful filter.
It comes with or without low spin extraction, single motor AC drive for variable extraction RPM. It is provided with soiled oil storage tank, filter pump and tank.
Stainless Steel Inner Basket, Large Diameter Stainless Steel Polished Die Pressed Door
The machine has Auto reverse, Auto timed and Auto drain function. Super Fab India 'Dry-cleaning Machine' can remove grease, oil and tracing marks from all kinds of garments. Dry cleaning is an apt cleaning solution for all kinds of garments and furnishing which have doubt of shrinkage and color bleeding. Also, when different type of fabrics are used. The machine has low spin extraction to prevent dripping while unloading.
Technical Specifications
Models

Capacity dry wt. Per charge

Basket Dia x Depth/Volume

Motor

Extract speed

Door opening

Filter pump

Base tank capacity

Filter tank capacity

Dimension (W x D x H)

Net Wt/ Shipping wt. Shipping size (W x D x H) Shipping volume

Pump capacity

SFDC - 10

10 Kg

650x300

2.20 KW

250 RPM

375

0.37 KW

175 lts

175 lts

1050 x 850 x 1650

450kg/ 560kg
1250 kg x 950 kg x 1700
2.01 M3

100 lts

100 lts/min

SFDC - 20

20kg

800x400

0.37kw

1.5kw

400

0.37KW

250 Lts

250 Lts

1250 x 950 x 1800

650 kg/ 925 kg
1450 x 1150 x 1900
3.15M3

200 lts

230 RPM

100 Lts/min

SFDC - 45

20kg

950x500

0.75KW

3.7 KW

500

0.37KW

400Lts

400Lts

1400 x 1200 x 2050

1025 kg/ 1325 kg
1650 x 1400 x 2150 5M3

354lts

200 RPM

100 Lts/Min